Prof. Dr. Mohamed El Shinawi, #GU's Acting President, welcomed Prof. Dr. Shinji Kaneko, Hiroshima University's Vice President in his first visit to #GU. This visit comes as a follow up to the partnership agreement signed between the two universities last year, where 15 Japanese Professors taught in the fields of Dentistry, Engineering, in addition to the Japanese Language program, which will be launched next academic year.
Prof. Dr. Tarek Abou Elmaaty, VP for Academic Affairs praised the outcomes of this collaboration with one of the world's renowned universities benefiting from its expertise in the educational process. And in memory of Hiroshima victims, a Peace Memorial Center was opened on #GU_campus.
#GU_future_starts_here
#GU_dual_degrees
#GU_futuristic_programs
#Galalians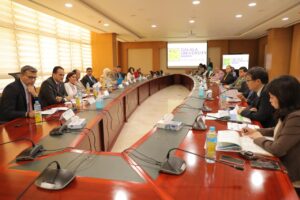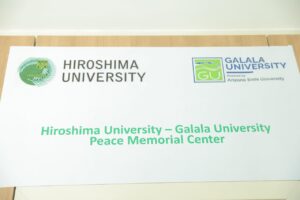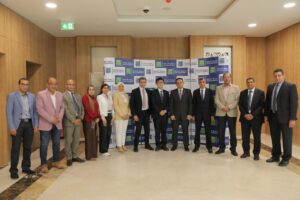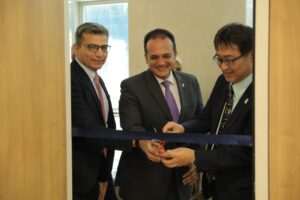 تشرفت #جامعة_الجلالة اليوم باستقبال الأستاذ الدكتور شينجي كانيكو، نائب رئيس جامعة هيروشيما اليابانية . وكان في استقبال السادة الضيوف الأستاذ الدكتور محمد الشناوي، القائم بأعمال رئيس #جامعة_الجلالة والأستاذ الدكتور طارق أبو المعاطي، القائم بأعمال نائب رئيس الجامعة للشئون الأكاديمية والدكتورة رنا زيدان، أمين عام الجامعة. تأتي هذه الزيارة في إطار اتفاقية التعاون بين الجامعتين ومرور عام علي توقيعها حيث تنص علي قيام جامعة هيروشيما بارسال 15 استاذ جامعي الي #جامعة_الجلالة للتدريس في مجالات طب الأسنان والهندسة بالاضافة إلى برنامج اللغة اليابانية المقرر افتتاحه في العام الأكاديمي القادم
هذا وقد نصت الاتفاقيه على العمل المشترك لتطوير هذه البرامج ومنح درجات علمية مزدوجة فيها. كذلك تم افتتاح مركز السلام التذكاري بمقر #جامعة_الجلالة والذي يأتي تخليداً لذكري ضحايا القصف الذري في هيروشيما.